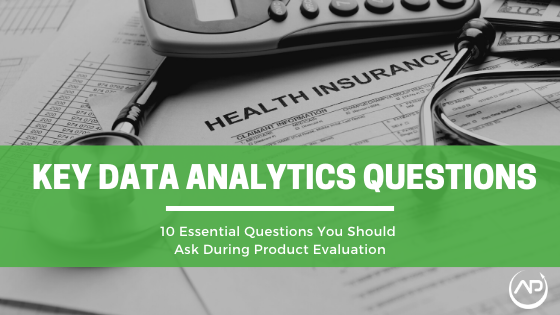 Top 10 Key Data Analytics Questions You Should Ask During Product Evaluation – Part 2
Welcome back to part 2. We understand that choosing a new solution can be a daunting task so we are back with the Top 10 Key Data Analytics Questions You Should Ask During Product Evaluation. Making changes can have an extensive impact on a company's success, employee productivity, and the members served. If you are considering a change, whether it be upgrading your claims systems, taking on more risk, outsourcing parts of your operations, or improving your data management, we can help.
To aid in your process, we have decided to share the top 10 questions we received from health plans looking for solutions to improve operations and grow membership.
Let's continue  with part 2 of our analytics solutions questions.
Question # 6: How do you ensure PHI data is kept private and secure?
Security for sensitive data is provided via user accounts and database roles determined by job description requirements related to the business need to view PHI data and employee data. Restricting access to PHI and Employee data follows the 18 HIPAA PHI identifiers. Additional PHI identifiers, specific to the client, may be identified and masked.
Question # 7: How quickly can we implement your solution?
Through the combined agile and waterfall approach, we deliver our solution based on your most critical requirements in an iterative approach. You can start utilizing portions of the analytics in as little as 90 days.  Implementations begin with an assessment of your current analysis environment and applications, then progresses to the development of a strategic information and technical roadmap followed by the detailed design of the solution. Finally, we begin installation/ configuration and the execution and deployment of entire solution.
Question # 8: What kind of proof-of-concept do you offer?
We offer a free 30-day proof of concept of our hosted HIA solution. You can utilize your data and have full access to our entire suite of self-service analytics and reports. Customized POC's can also be done based on client requirements.
 Question # 9: How do you help promote end-user adoption and training?
Training is one of the most important aspects of a successful project. It is necessary to make sure that the various teams involved grow with the solution, and that they continue to use their full capabilities after the initial implementation is complete. It is important to have involvement at all levels, and ensure that the tools are being used to enhance effectiveness and efficiency. Information training should be a staple for anyone being granted access to the environment. This will make End User Adoption of the new environment achievable. Analytics Partners' training solutions can make this happen for your organization.
Analytics Partners provides training specific to the customer implementation.  This training is highly interactive and is developed by modifying the course templates to include customer specific data and dashboards.  New user training is delivered in a classroom setting and refresher or enhancement training can be delivered via webinar.  Analytics Partners is positioned to be extremely flexible and can adapt the curriculum and delivery medium to best suit the needs of the customer. There are robust training options available to the customer for both the proposed solution and each individual technology capability.  This training is primarily delivered onsite by expert consultants who are experienced in the Healthcare space, your environment and how the solution has been implemented at your site.   We also offer Train the Trainer program, Virtual Live Classroom and On-Premise training.
Question # 10: Is there a support package included? What does it include?
Analytics Partners has developed a support services practice dedicated to quickly resolving issues and enabling the maximum return on investment for our clients. Our M.A.P.S. (My Analytics Partners Support) desk is available during normal working hours and is always answered by our live in-house consultants located at our corporate headquarters in Jacksonville, FL. We follow best practice standards like rapid SLA response times, user friendly and easily accessible client support portal, and working with the same certified support specialist throughout the life of your issue.
Benefits for Support Services Customers:
Support for "How To" questions along with technical support
Work with the same consultant every time and has intimate knowledge of your environment
Eliminate the need to start each call with a reintroduction of your issue, sending your repository and web catalog
You decide when your case is resolved and accelerate issue resolution time
Allow your resources to focus on core competencies
Increase user satisfaction due to fast problem resolution
As always, Analytics Partners is your go-to partner for data warehouse and analytics solutions. We hope these Key Data Analytics Questions will be helpful when evaluating your next data analytics solution.
View Part 1 with Questions 1-5 Here